Poroshenko has earned five impeachment – Tymoshenko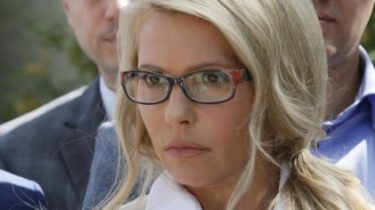 Poroshenko has earned five impeachment – Tymoshenko
© UNIAN
Tymoshenko said that Shukhevych personally asked me to give him the floor didn't say what he wants to say about impeachment.
The leader of the faction "Batkivshchyna" Yulia Timoshenko declared that its work, President Petro Poroshenko has earned five impeachments.
She stated this on the sidelines of Parliament, transfers "Ukrainian truth".
"Regarding the issue and talk of impeachment of the President, I think this President has earned impeachment of five", she said.
According to Tymoshenko, people's Deputy from Radical party faction Yuriy-Bohdan Shukhevych asked the faction of "Batkivshchyna" to give him the word.
See also: MPs Poroshenko accused the "Fatherland" in collaboration with "fifth column" of the Kremlin
To the question if she knew that Shukhevych wanted to say about the impeachment of President Petro Poroshenko, Tymoshenko said: "We have not had the opportunity to talk about the details of his text. He just said to give him three minutes."
"I have to tell you that he called me personally with the right to speak, because his faction had not signed him the right to speak", – said Tymoshenko.
See also: paruby believes the attack on Boiko Lyashko part of the plan "the connecting Rod"
We will remind, the head of the faction of the Radical party Oleg Lyashko said that the people's Deputy Yurii-Bohdan Shukhevych tried to use "for the implementation of Moscow's plans" people of Victor Medvedchuk.
"That's why our group has asked for a break, where we discussed the situation, and the results of the break, you heard a completely suspended state, demanding the performance of Yuriy Shukhevych", – said Lyashko.
Today, November 15, in the Parliament at a time when he was supposed to be the representative of the faction "Batkivshchyna", was announced for performance a member of the faction of the Radical party Yuriy-Bohdan Shukhevych. Then Lyashko gave to speak Shukhevych, and was adjourned.
Comments
comments