The terrible wounds of the mine Butovka, helmets and vests flew with soldiers, like a shell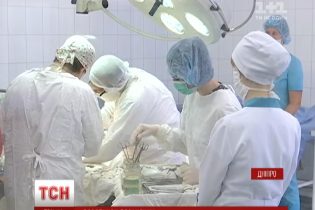 The terrible wounds of the mine Butovka, helmets and vests flew with soldiers, like a shell
Thumbnail for "01_поранення"
Hospitalized soldiers told how he came under furious enemy fire.
On the eve of the six seriously wounded Ukrainian soldiers evacuated from the front in Dnepropetrovsk regional hospital named after Mechnikov. Weather they are hindered to do so, but the hospital helicopter pilot coped with the challenge, says the story TSN.19:30.
The men were in critical condition with a large blood loss, the three were immediately taken to the operating room. Surgeons within a few hours had made the vessel and got numerous splinters. One of the most serious 27 – year-old Eugene is still on the ventilator.
Already in the emergency room guys told of heavy shelling near the mine Butovka. The soldiers recognized that the explosion of their protective ammunition shattered into splinters. In a moment five fighters received a severe mine blast trauma. Another soldier was injured during the shelling in Kominternove. "The shelling started, I don't even understand what happened. Ran under the bridge, already had a broken leg. Full of shrapnel, began to bandage himself. A wound through his hands. Scared. Thought everything. They don't have time for us to come," – said the wounded Roman Calco.
Doctors hope that, despite the serious damage, all the fighters will live. "The projectile or mine so tightly he lay down upon the fighters, what with their bullet-proof vests and helmets flew as the shell. The body is not a living space, a lot of time will pass before these children will recover," – says the chief doctor Sergei Ryzhenko.
See also: Maryinka, Shyrokyne and Krasnogorovka: the headquarters of the ATO called the hot spots on the Donbas
Recently the zone of the antiterrorist operation in Marinka was injured by two men, who call themselves volunteers. They were hospitalized with shrapnel wounds. 32 affected and 23, the press service of the Channel. From a resident of Maryino district minno-an explosive trauma, head injury. Another volynyanin, was wounded in the thigh.
Comments
comments