Parubiy closed session of the Verkhovna Rada under the failure of the abolition of the "law Savchenko"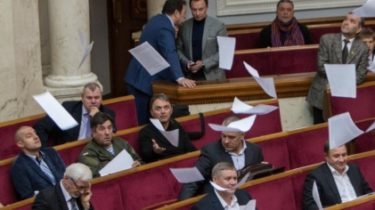 Parubiy closed session of the Verkhovna Rada under the failure of the abolition of the "law Savchenko"
© UNIAN
The speaker thanked the MPs for their work,despite the provocation.
The Verkhovna Rada considered two bills concerning the abolition of the use "of the law Savchenko" to those convicted of heinous crimes, and then speaker of the Verkhovna Rada of Ukraine Andriy paruby closed the evening plenary session of Parliament.
Writes about this RBC-Ukraine.
"Thank you for your active, fruitful and eventful day… in spite of all attempts to destabilize the Parliament… the Evening session of the Verkhovna Rada of Ukraine hereby dismissed. Tomorrow at 10:00 a.m. I ask everyone in the room," – said the head of BP.
Before closing the deputies were considered 2 of the draft law No. 4032 and # 4548, which proposed to abolish the use of the "law Savchenko" to those convicted of grave and especially grave crimes. The bills were supported only 155 and 143 of the MP at 226 required.
Parubiy said that after consideration of these draft laws Parliament can consider the government bill No. 5259 "On amendments to article 72 of the Criminal code of Ukraine concerning improvement of the procedure for admission of pre-trial detention" and make a decision on it.
See photos: "Savchenko's Law": in Vinnytsia oblast caught the suspects in the brutal murder of a pensioner
Recall, a lawyer-criminologist Anna Malyar said that the so-called "law Savchenko" was adopted by individuals and especially by "the elite bandits" and VIP criminals. However, she stressed that the new document, the legislator recognizes that the conditions of detention nevinovate faces more stringent than those which the court recognized as guilty.
Because of the "law Savchenko" will be the founder of the famous construction Scam "Elita-center" Alexander Volkonsky shahs and controversial doctor-crook Andriy Slyusarchuk, known as "doctor PI".
Comments
comments