A Little Ginger. In China found similar to Donald trump's pheasant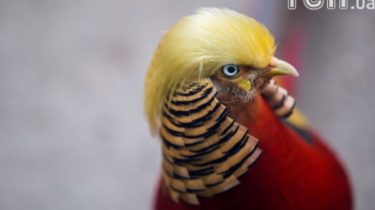 A Little Ginger. In China found similar to Donald trump's pheasant
Curiosities
Today, 15:05
1 of 4

© Reuters

1 of 4

© Reuters

1 of 4

© Reuters

1 of 4

© Reuters
© Reuters

© Reuters

© Reuters

© Reuters
The bird was the real star of the Internet.
In the network appeared the photo of the Golden pheasant, which, according to users, is very similar to the newly-elected President of the United States Donald trump.
In particular, extravagant politician and a bird similar hairstyle, reports the Daily Mail .
Read also: Russian scientist called trump a descendant of the princes of Kiev
The lenses of the cameras pheasant went to the local Safari Park in China. Later photographs published in the media and they quickly spread around the Internet.
Tourists at Chinese zoo realise this golden pheasant looks a lot like Donald Trump https://t.co/twfATWvCmA pic.twitter.com/teR6Fi8AUV
— Mashable (@mashable) November 15, 2016.
It is noted that the bird's name is Little red. And the color of his feathers redder than the other pheasants. This suggests that he is healthy.
See also: "tramp-Burger". In Russia Burger King in honor of the victory trump will release a standalone fast food
The owner of the pheasant admitted that he had not thought to compare the bird with the trump. This idea came to him after the Republican victory in the presidential election.
"After trump chose the President of America, I began to see his pictures, and then the pheasant seemed like him," said the man.
Recall, TSN.ia made a comic experiment, examples of hairstyle shocking American on top Ukrainian politicians.
Comments
comments