In Moldova from hitting the van, the man flew into the air for passers — by indifferently looked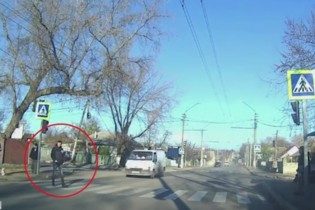 In Moldova from hitting the van, the man flew into the air for passers — by indifferently looked
© Daily Mail
The man crossed the road on "Zebra" and almost died.
In Moldova DVR recorded an interesting incident: a man without looking crossed the road on the Zebra crossing when he was hit by a van.
From blow the man flew into the air, however, other passers-by just looked and then went through the cases, reports The Daily Mail.
See also: Cheboksary girl on a sled fell under the wheels of a car and miraculously survived
According to the publication, the man survived, but the "earned" a concussion and some bruises. The collision occurred in the city of Balti.
Recall recently in Lviv, the driver of a passenger of the BMW ran over three pedestrians-teenagerskilled 12-year-old boy.
Comments
comments