Biryukov showed a video of the successful launch of rockets of Ukrainian production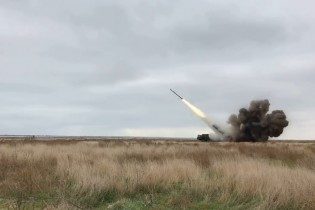 Biryukov showed a video of the successful launch of rockets of Ukrainian production
© facebook.com/Юрий Biryukov
Both attempts proved to be successful.
Advisor to the President of Ukraine Yuri Biryukov has published two videos of the successful launch of the missile of Ukrainian origin.
Both attempts were successful. In comments to the records Biryukov said that the missiles landed in the sea.
Read also: Poroshenko released a video of a successful test of the new Ukrainian weapons
"All right, we know how to make missiles," – he said, without specifying the name of development.
We will remind, earlier on the exercises "Rubezh — 2016" radio battalion radio-technical troops, which provides the control over the situation in the airspace, for the first time applied the latest domestic development 79К6 "Pelican". This movable troglodyte radar of the circular review with a phased antenna array.
The military successfully tested the latest domestic development to protect the airspace "Pelican"
ATO
22 Oct, 13:44
1 of 4

© Ministry of defence of Ukraine

1 of 4

© Ministry of defence of Ukraine

1 of 4

© Ministry of defence of Ukraine

1 of 4

© Ministry of defence of Ukraine
© Ministry of defence of Ukraine

© Ministry of defence of Ukraine

© Ministry of defence of Ukraine

© Ministry of defence of Ukraine
Comments
comments