Details of the "plot": Shukhevych was to initiate impeachment to be killed by the alleged Poroshenko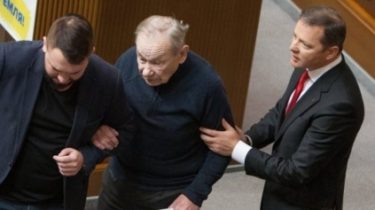 Details of the "plot": Shukhevych was to initiate impeachment to be killed by the alleged Poroshenko
© UNIAN
Lyashko said that his party wanted to use the "enemies of Ukraine".
The MP from the Radical party of Yuriy Shukhevych was preparing an attack and threat to his life still exists. This was from the rostrum of Parliament said Oleg Lyashko, says the story TSN.19:30.
The politician explained that Shukhevych deceit persuaded to pronounce the proposal to initiate impeachment Poroshenko. And after that planned to kill him, so that suspicion fell on the head of state. As a proof of the Lyashko showed the draft of the resolution of impeachment, which allegedly went to the podium Shukhevych. The authors of the plan leader of the "radicals" called okrujenie Viktor Medvedchuk and Timoshenko.
Political Thriller: Oleg Lyashko said about the attempt on the life of Yuriy Shukhevych
TSN. 19:30
Yesterday, 21:16
Add to favourites
This was from the rostrum, said Oleg Lyashko. He informed the President, because those who planned the killing of Shukhevych, allegedly intended to accuse him of Peter Poroshenko. Conspiracy Lyashko accused the entourage of Viktor Medvedchuk and Tymoshenko. In the "Fatherland" claim that their political power trying to discredit a fictional provocation.
In the "Fatherland" said that gave the floor to the representative of the "radicals" to Shukhevych, because his faction of the banned speech, and this is respected. Accompanied the MP to the podium because he has bad eyes and needs help. And that these "radicals," Mr. Alexander Bilyk, with whom on the sidelines fighting the MP Mosiychuk was in VR at the written request of Tymoshenko – it was a request of Shukhevych, who considered this man a member of his team.
How did you learn to TSN, Bilyk previously it was actually linked to Viktor Medvedchuk. However, he was seen in a very different social actions. Tymoshenko says nothing about the connection Bilyk with Medvedchuk did not know, but the letter was signed, because Shukhevych asked.
See also: "in Moscow the enemy" wants to kill Shukhevych – Lyashko
Yury Shukhevych after the first failed attempt and a break in the session of Parliament has made a speech, but without a single mention of impeachment. And then from comments refused and left the Parliament. Lyashko also said that he met with the President, and he promised that Shukhevych will provide protection. Whence it became known of an alleged conspiracy, the radicals do not explain. The SBU meanwhile waiting for an official statement about the planned attempt to begin the investigation.
The TSN reporter Maria Vasilyeva
Comments
comments