Obama surprised by the choice of Americans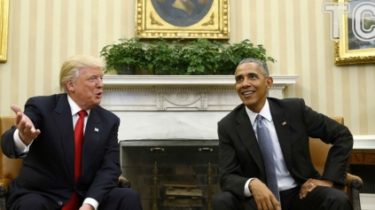 Obama surprised by the choice of Americans
© Reuters
But the American President "feels responsible" for what he says or does, the newly elected head of state.
President Barack Obama does not hide his surprise from the choice of the Americans, but says that will give his successor the best of thinking about strategy that will allow the U.S. to remain a world leader.
About it writes UKRINFORM.
"I think it's fair to say that the election results surprised me," said Obama.
Also, the White house stressed that does not feel responsible" for what he says or does the President-elect.
"But I feel responsible as President of the United States to facilitate a smooth transition (the authorities – ed.) and I'll tell him in the same way as the American people, my best thinking, my best ideas about how to move the country forward," Obama said.
The US President stressed he believes the policy, which he introduced with his administration for eight years of presidency, right.
See also: Barack Obama "found a job at Uber
November 10, Donald trump, who won the US presidential election, met with Barack Obama, who at the time of the race, campaigned against the Republican. Policy agreed to cooperate, and Obama described the meeting as excellent.
The first personnel changes in the office of the new US President
TSN. Wounds
14 Nov, 13:18
Add to favourites
Donald trump has decided on the head of his own administration. It would be Pribus Raines, who now holds the position of head of the national Committee of the Republican party. On the eve of trump in an interview announced that he wanted to be deported from the US 3 million illegals. The US President-elect has also confirmed its intention to build a wall on the border with Mexico.
Comments
comments