It will work a decent salary. Groisman convinced in the steady growth of the economy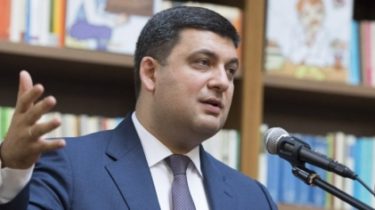 It will work a decent salary. Groisman convinced in the steady growth of the economy
© UNIAN
The government forecasts 3 percent growth in GDP by the end of 2017.
In the third quarter of 2016 , the economy of Ukraine increased by 1.8%. And there is every prospect that by the end of 2017, GDP will be plus 3%.
On this day, November 16, during a government meeting said the Prime Minister-the Minister Vladimir Groysman.
"Over the last week have received positive signals: we rose in the rating by the Agency Fitch and it actually came out pre-default state. At the same time, Ukrainian GDP grew in the third quarter of 2016 at 1.8%. While it is imperceptible to people, but we begin a steady growth. This means it will work national product and would be a decent salary. And we, as a government, should support and accelerate the economic growth, what we are doing now," – said Groisman.
See also: national Bank announced economic forecasts for Ukraine until 2020
However, the head of government said that Ukraine in 2017 can raise social standards subject to further economic growth.
"We expect next year we will have 3% growth (GDP). We plan to raise standards. And I don't exclude that we at the end of the execution of the budget (for 2016) will revise these figures," – said the Prime Minister.
Note, international analysts predict that the GDP growth in Ukraine in 2017 will amount to 2-2. 5%.
Groisman complains that "today some forces are trying to undermine the situation in the country, using various pretexts, agricultural sector, banking sector, tariffs and the like. These actions are destructive for Ukraine. You have to concentrate on growth and do so that it was felt by every Ukrainian. In previous years we almost lost the credibility of the government. And it's our job to get her back. A large role is played by efficiency, transparency and openness. In 2014, we have established the Agency for e-governance. And at this meeting we will discuss e-governance, decisions will be made about changes in the management of the Agency that will make the command work more efficient."
While in the building of the Cabinet of Ministers spoke about economic improvement, the national Bank began to save the hryvnia from the rapid fall in the foreign exchange market.
Meanwhile, the Ukrainians began to receive bills with exorbitant amounts for utilities, say Kiev residents pay for heating for a full month, although the heating season in October lasted only two to three weeks. Groisman threatened criminal liability for incorrect utility bills.
Comments
comments