Groisman threatened criminal liability for incorrect utility bills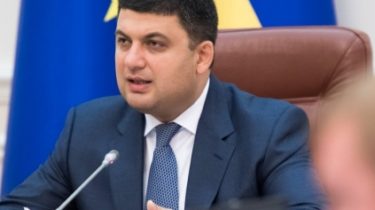 Groisman threatened criminal liability for incorrect utility bills
© UNIAN
The Prime Minister warned that "fake" bills would punish with fines.
For the nomination of Ukrainians illegal bills officials can prosecute.
This was stated by Prime Minister of Ukraine Volodymyr Groysman during the meeting of the government.
"I think we need to apologize on the one hand, and on the other, I warn that if we see that somewhere in the regions, these things happen, we will severely punish penalties. I think that there can be no question of criminal responsibility for billing the people at inadequate prices. I warn everyone that this is not necessary to play and tease people," he said.
In turn, Vice Prime Minister of Ukraine Volodymyr Kistion reported that according to "Kyivenergo", this situation has arisen by mistake.
"Now all the bills that were sent to consumers, will be revised. Account for the remaining consumers who have not yet received bills will be adjusted to actual volume of consumption," he said.
According to Kistina now KSCA dealing with the problem.
"We heard that it seems to be a mistake. But some it is very strange when someone is trying to undermine the situation and to catch up with the hysteria, the bills appear with doubled-tripled digits, unreal, absolutely overpriced. We assume that it was a mistake," responded to the words of Deputy Prime Minister Groisman.
At the same time, interior Minister Arsen Avakov has offered to send in his Department check materials to figure out, "maybe it's more than a mistake".
We will remind, this week the residents of apartment buildings of Kiev with the Central heating began to "defective" bills for heat. Some people revolted, and the others exhaled with relief. Homes with nearly identical footage fees range from UAH 300 to 2 thousand UAH.
It is also reported that the wrong account for the use of gas and housing and communal services received and the residents of Odessa region.
Comments
comments