Kuchma said that he wanted to resign from the post of representative of Ukraine in the Contact group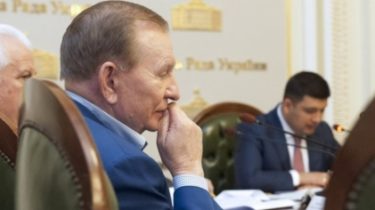 Kuchma said that he wanted to resign from the post of representative of Ukraine in the Contact group
© UNIAN
The former President "happy to hand over his powers".
The former President of Ukraine Leonid Kuchma said that for a long time asks for resignation from the post of representative of Ukraine in the Tripartite contact group, which deals with the settlement of the conflict in the Donbas.
About Kuchma told journalists on Tuesday in Kiev, transfers "Interfax-Ukraine".
"All the time please, release me please from this work. I have one left from the team that was originally. Russia two have changed… I'm happy to hand over his powers: it may, indeed, someone better can do it," said the ex-President.
According to Kuchma, his replacement has not yet been found.
See also: "There, the murderers, and who is there just there," – Kuchma on the list of fighters for the exchange of prisoners
Earlier, Leonid Kuchma said that the militants of separatist groups of "LNR" and "DNR" trying to frustrate the negotiation process to restore peace in the Donbas.
Comments
comments