NBU reported about the bankruptcy of the next Bank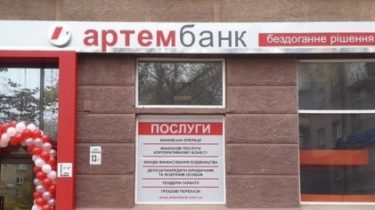 NBU reported about the bankruptcy of the next Bank
© nikolaev.bankomap.com.ua
94% of customers promise to return the Deposit in full.
The national Bank of Ukraine declared insolvent joint stock company "Artem-Bank".
The Bank, in particular, "went negative" — at the end of October, its capital amounted to -185,2 million. This was reported on the website of the NBU.
The loss of liquidity of JSC "Artem-Bank" since the beginning of November of 2016 was caused by problems with loan servicing. So, 80% of the loan portfolio did not work.
Read also: national Bank brought down the rate of selling almost $ 30 million
"This resulted in the failure of the Bank of its obligations to customers. In particular, the NBU set the default Bank for five consecutive business days two or more percent of its obligations to depositors and other creditors. As of November 8, 2016, the total amount outstanding of JSC "Artem-Bank" of clients ' transactions exceeded 20.2 million UAH (5.3% of its obligations)", — stated in the message NBU.
Together, these problems caused a violation of economic standards and open currency position limits.
However, 94% of all investors, "Artem-Bank", and this is 411 2 people will receive the deposits in full because of their "size does not exceed guaranteed by the Deposit guarantee Fund of individuals in the amount of 200 thousand UAH", — noted in the national Bank.
However, customers with large volumes of deposits will receive benefits under the General guaranteed amount of compensation that as of November 8, 2016 has made 177,2 million.
We add that the ultimate owners of "Artem-Bank" is a Ukrainian company "Paradigm" — 91,53%, the ultimate beneficiary of which is Mr. Boris Lemper, a citizen of Israel; Alexander Kachur — 7,08% State joint-stock holding company "ARTEM" — 0,83%.
We will remind, the national Bank of Ukraine recognized the Odessa businessman Boris Kaufman the owner of a substantial participation in the "platinum Bank". He, incidentally, had planned to buy 75% + 1 share of the financial institution.
Comments
comments