The police said the details of the daring armed robbery in the center of Kiev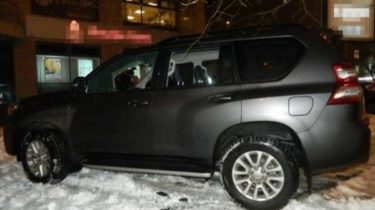 The police said the details of the daring armed robbery in the center of Kiev
Kiev
Today, 17:37
1 of 5

© State of National police of Ukraine in Kiev

1 of 5

© State of National police of Ukraine in Kiev

1 of 5

© State of National police of Ukraine in Kiev

1 of 5

© State of National police of Ukraine in Kiev

1 of 5

© State of National police of Ukraine in Kiev
© State of National police of Ukraine in Kiev

© State of National police of Ukraine in Kiev

© State of National police of Ukraine in Kiev

© State of National police of Ukraine in Kiev

© State of National police of Ukraine in Kiev
According to witnesses, the attackers who stole 7 million at the cave, were three.
A man wins 7 million hryvnia in the center of Kiev on the street of Moscow, at the time of the attack, signed documents for the investment of money in the Bank.
About it reported in Department of communication of the police of the capital.
"41-year-old victim was carrying the money (7 million hryvnia) to invest in the Bank. While he processed the documents in a financial institution, the cash was from a friend in the car", – is spoken in the message.
See also: Several judges robbed after the publication of the Declaration the Head of Council of judges
According to 32-year-old witness, three unknown persons in black masks broke the Windows of the car and, threatening with a pistol, took the money.
Fortunately, the result of an armed attack nobody suffered.
Currently, investigators are searching for the perpetrators, the event information included in the Unified register of pre-judicial investigations on signs of robbery. The sanction of article provides till 15 years of imprisonment with confiscation of property.
We will remind, earlier in Kiev boldly robbed the jewelry Department of the Mall. The robbers quickly made jewelry and fled in a car.
Comments
comments