UN in Belarus attempted to block the consideration of Ukrainian resolution on Crimea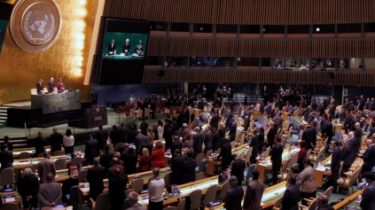 UN in Belarus attempted to block the consideration of Ukrainian resolution on Crimea
© Reuters
Most countries did not support the initiative of Belarusian side.
The delegation of Belarus to the UN was trying to block consideration of the resolution in the third Committee of the UN General Assembly on human rights, which will address the Ukrainian resolution on Crimea.
On Twitter, Deputy Minister of foreign Affairs of Ukraine Sergiy Kyslytsya, UNIAN reports.
"Belarus in the UN tried to stop the consideration of all resolutions in the 3rd Committee on human rights, including in the Crimea, suffered a defeat," he wrote.
According to him, Russia was also against the consideration of resolutions. The delegation of the Russian Federation, "review of human rights contributes to confrontation between the countries of the world."
See also: In the Hague for occupation of Crimea with Russia recognized international armed conflict – report of the Prosecutor
Deputy Minister of information policy Emine dzhaparova in Facebook. announced that Belarus brought to a vote of the Committee is not to consider the agenda (no action motion). In addition to the Crimea, it was planned to consider the situation in the DPRK, Iran and Syria. But against the initiative of Belarus voted 101 member country of the UN, abstained – 37, – 32.
Countries that supported the proposal of Belarus is: Algeria, Angola, Bangladesh, Belarus, Bolivia, Brunei, Burundi, China, Comoros, Cuba, DPRK, Egypt, India, Indonesia, Iran, Kenya, Kyrgyzstan, Laos, Myanmar, Nicaragua, Russian Federation, Singapore, Sudan, Syria, Tajikistan, Uzbekistan, Venezuela, Vietnam, Zimbabwe, Iraq, Nigeria and Eritrea.
See also: U.S. sanctions punish the deputies of the state Duma from the occupied Crimea
We will remind, in a submission to the UN draft resolution of Ukraine proposes to condemn the violation of human rights, discrimination of Crimean residents, Crimean Tatars in particular, by the Russian occupation authorities. The Ukrainian co-authors of the draft resolution were 38 delegations.
The draft requests the UN Secretary-General to find ways and means to ensure safe and unimpeded access to Crimea, representatives of international organizations to monitor the situation of human rights. In the preamble of the draft says about the condemnation of the temporary occupation by the Russian Federation of the territory of Ukraine — the Autonomous Republic of Crimea and Sevastopol and reaffirmed the non-recognition of its annexation.
The Hague Tribunal called the situation in Crimea, the armed conflict between Ukraine and Russia
TSN. Pdsmi day
Today, 00:26
Add to favourites
In addition, the Tribunal noted that in Eastern Ukraine there were direct clashes between Russian and Ukrainian military. This is stated in the annual report of the Prosecutor Fatou Bensouda, in which she describes the findings on appeals from the Ukrainian side.
Comments
comments