In the "Novinsky" amounted to a suspicion of the President-the fugitive Yanukovych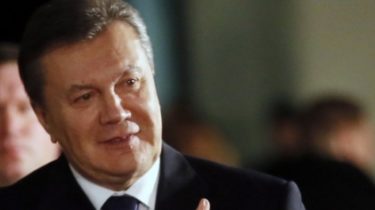 In the "Novinsky" amounted to a suspicion of the President-the fugitive Yanukovych
© UNIAN
Former head of state accused of illegal deprivation of liberty of a person.
The Prosecutor General's office of Ukraine made the suspicion of ex-President Viktor Yanukovych on paper – illegal imprisonment or kidnapping. About it reports a press-service GPU.
It is noted that in the course of the investigation proceedings concerning unlawful deprivation of liberty, personal assistant of Metropolitan Volodymyr, Archbishop Pereyaslav-Khmelnitsky and Vishnevsky Alexander (drabinko) was sufficient evidence linking Yanukovych to the crime.
In this case, in addition to Yanukovych, the suspects are former law enforcement leaders Zakharchenko and Koryak, the people's Deputy Vadim Novinsky, as well as other law enforcement officials. Officials can present a suspicion of unlawful imprisonment or kidnapping, and also in excess of the power or office powers employee of law enforcement body.
Now the GPU is looking for ways to convey to Yanukovych the suspicion.
Recall that on 3 November it became known that the Prosecutor General's office of Ukraine will contribute to the Verkhovna Rada a view to the prosecution of people's Deputy Vadim Novinsky. The corresponding document was published, the Prosecutor General of Ukraine Yuriy Lutsenko. MP from "Opposition bloc" Vadim Novinsky became acquainted with the social network laid out in a document of the GPU and declared in the Parliament that in view of the involvement of the Deputy to responsibility a lot of mistakes.
Before Lutsenko declared that the politician is suspected of attempt of removal of the Metropolitan of the UOC-MP Vladimir."We are really at the finish line in the case in which Yanukovych suspected of illegal pressure on the Ukrainian Orthodox Church with the purpose of removal from office of the late Metropolitan Vladimir. In this case is suspected as people's Deputy Vadim Novinsky" – said Lutsenko.
Comments
comments