Where can I elect politicians who threaten the unity of the European and Russian support. Infographics
Where can I elect politicians who threaten the unity of the European and Russian support. Infographics
In many European countries in the near future will choose new leaders.
In Moldova and Bulgaria on 13 November elected new leaders.
Both the newly elected President did not hide his Pro-Russian position and views that threaten existing between the European countries relations.
In particular, the new President of the EU countries of Bulgaria, rumen Radev stands for pragmatic relations with Russia in favor of lifting the European Union imposed anti-Russian sanctions.
See also: Bulgaria presidential elections won the Pro-Russian candidate – exit poll
The newly elected President of Moldova, Igor Dodon, announced the start of preliminary talks in Moscow on which it wants to consolidate the strategic partnership.
Ahead of the Europe is waiting for the presidential elections in France, Austria, Serbia, and parliamentary – in Norway, the Netherlands, the Czech Republic and Germany.
See also: Pro-Russian wave in Eastern Europe – Die Presse
Who among the candidates has the leaders of the Pro-Russian position and opposes the current policy of the EU, check out the infographic below to TSN.ia.
CLICK ON THE INFOGRAPHIC FOR LARGER IMAGE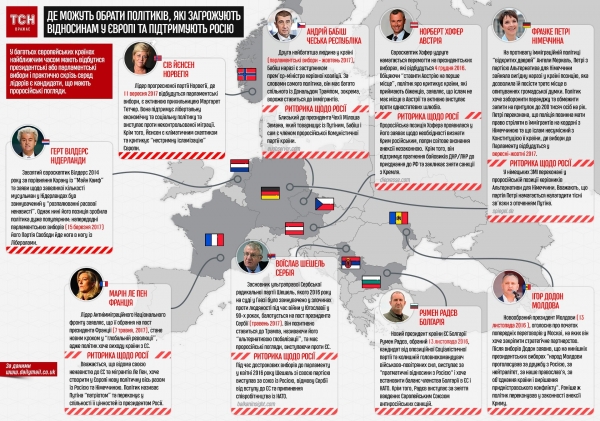 Comments
comments