Lions will receive money for implementation of the electronic ticket in public transport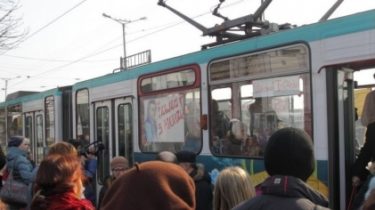 Lions will receive money for implementation of the electronic ticket in public transport
© UNIAN
Loan agreement the city signed with the European Bank for reconstruction and development.
Today, November 17, the lions signed a loan agreement for 10 million euros with the European Bank for reconstruction and development. The money will be spent on implementation in the city for the automated collection of payment for public transport.
A loan that will get the utility "Lvivavtodor", used for the purchase, installation and operation of the necessary hardware and software and electronic charts. This reports the press service of the Lviv city Council. Therefore, the lions will be one of the first Ukrainian cities with automated fare collection in public transport.
See also: transport it will be possible to pay by card: in Ukraine, want to introduce "e-ticket"
"As always, the lions once again at the forefront of implementation of high technologies, and that by signing this document, we see an example when the electronic ticket. It is part of a larger project that will connect the downtown and major residential district of Sykhiv. We want to wish the residents of Lviv to see even better public transport and we hope that we will continue to cooperate successfully," – said Director of EBRD in Ukraine Aguner of Sevki.
The loan term is 13 years with a grace period of three years after the signing of the loan agreement. The duration of implementation, the project is about two years. Interest rate for credit use – 6-month interbank rate of the Euro area and margin of 7.0% per annum. The borrower identified LKP "Lvivavtodor", however, to guarantee its obligations, the loan will provide, under municipal guarantee.
During the implementation of the project will be equipped with public transport of the city by means of automated reception and processing of payments, expanding the sales network and replenishment of fare, will open the centers of service users, build a Central office will implement the integration of the current transport systems of the city.
Read also: Ukraine will receive 200 million Euro loan for the upgrade of public transport to 20 cities
We will remind, the question on introduction of the electronic ticket in Lviv are actively discussing the last five years. At first I wanted to implement the system helped the company in Latvia Riga, but later she refused to cooperate. Later held a contest, where its services for the implementation of the project proposed by 11 companies from Ukraine, Poland and the Czech Republic. The final winner is not yet determined.
Comments
comments