Successful experiment: Kiev pass tons of plastic bags for recycling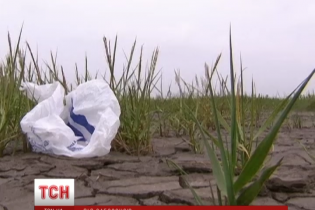 Successful experiment: Kiev pass tons of plastic bags for recycling
Thumbnail for "13_пакети"
Money is not important – the cellophane does not spoil the environment and becomes raw material, saving resources.
In Kiev took up the experiment on the recycling of plastic bags. Two weeks have already collected more than 20 tons of bags, per kilogram which the people pay half of the hryvnia, says the story TSN.19:30.
"It is important that the bags inside were clean, to avoid debris," explained the waste collector Victor Ivanovich, who, in his trailer takes plastic bottles, paper, cardboard, and now the cellophane. The clientele though, and laments the low cost, but the flow of bags is growing daily. "Some 5-6 pounds already bring, and the first pound was wearing, so the process goes on" – encouraging the owner of point of reception.
Fifteen hryvnia per kg packages: in Kiev, is an ecological experiment
TSN. 19:30
Yesterday, 22:15
Add to favourites
In Kiev took the experiment to recycle plastic bags. Two weeks have already collected more than 20 tons. Bags are not free. People are paid for each kilogram of the waste.
Not all people of Kiev are aware of the possibility to pass the packet for processing, however, now to the processing plant every day comes more than a ton of material. Packages there is first sorted by color, and then tweak the mechanisms that are crushed matter and make semi-finished products, ready for transformation into a new product – from plumbing pipes, basins and shovels to the exact bags.
What can be done from these bags the company has been showing at the special exhibition, trying to convince the authorities that she was allowed to put more kiosks for collection of recyclable materials. Because this initiative helps to save the environment without processing each packet is decomposed for several hundreds of years and are poisoning the environment, threatening the lives of birds and animals.
The correspondent TSN Alexander Shilko
Comments
comments