Famous Mexican porn star is suing a plastic surgeon due to the fact that her buttocks "rot"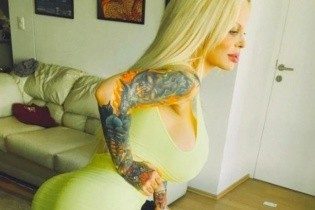 Famous Mexican porn star is suing a plastic surgeon due to the fact that her buttocks "rot"
© the mirror.co.uk
According to her, she may start the gangrene.
Playboy model and pornstar Sabrina Sabrok filed a lawsuit to the court for a plastic surgeon who, she said, and put her poor quality implants, causing her buttocks "rot". Reported by the Mirror.
So, the star of Mexican TV revealed that her implants are decomposed inside of her buttocks, which can cause gangrene.
"It [the fluid from the implants] to pass on to my feet, and then it can lead to gangrene," – said the porn star.
"I can't walk in high heels, and I can't do exercise", she added.
See photo: Former porn star thanks to the "prayers and meditations" found a husband 39 years her senior
39-year-old Sabrina has already gone through nearly 60 cosmetic surgery procedures that generally are worth more than 800 thousand pounds.
The star now requires a surgeon 3,949, funtoo "repaired" implants.
"These implants acted for about seven years, when they must operate for 20 years," said Sabrina.
Earlier, the famous American porn star tori black spoke with redditors and talk about their work.
Comments
comments