Instead of 3200 is 2500. Rozenko reminded about taxes with minimum wage
Instead of 3200 is 2500. Rozenko reminded about taxes with minimum wage
© UNIAN
To increase the minimum wage as early as 1 January 2017.
From 1 January 2017 the minimum wage in Ukraine will amount to 3,2 thousand UAH. However, its size still Dalila approve the Verkhovna Rada adopting the law on the state budget. But really clean at the hands of Ukrainians will receive 700 UAH less – 2,5 thousand UAH, after all, will charge taxes and other deductions.
About this on air of "Gromadska telebachennya" said the Vice-Prime Minister Pavlo Rozenko.
"In the world economy, the minimum wage is higher than 3200 hryvnia. In the legal economy, there is virtually these people who get 3200. Because minus a single social contribution and taxes – already 2500", – said Rozenko.
See also: Rozenko told how raising the minimum wage will affect the subsidies
Wage below the future minimum level, now receive in many industries, especially in the public sector.
"In the field of public sector employees, doctors, teachers, Yes, there are problems. They get less than 2500 hryvnia," — said Rozenko.
We will remind, the salary Rozenko in July of this year amounted to 23 thousand UAH.
Vice Prime Minister hopes that the increase in the minimum wage will stimulate purchasing power.
"We need to stimulate the purchasing power of citizens. When we talk about the public sector, we need to understand that this money is not displayed in the offshore. Spend the money on consumer goods. This economic model," – said Vice Prime Minister.
It should be noted that the increased purchasing power may lead to higher inflation. However, the national Bank noted earlier that have not yet revised their forecasts to reflect the increased minimum wage to 3, 2 thousand UAH.
Updated government forecasts for the economy of Ukraine read on Dnia this link.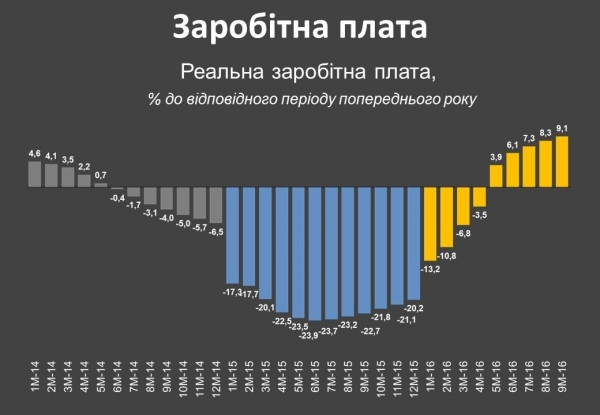 The Ministry of economic development and trade of Ukraine
Comments
comments