Lutsenko said about "protection" Novinsky from politicians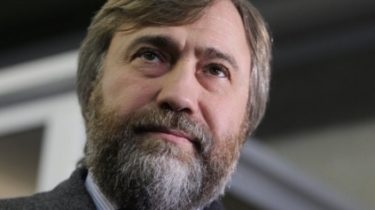 Lutsenko said about "protection" Novinsky from politicians
© UNIAN
The attorney General refused to name specific politicians.
Prosecutor General Yury Lutsenko said about "protection" the case of the Deputy Vadim Novinsky.
He declared it "the Ukrainian truth".
"I do believe "protection" is invalid, and in the case of Yanukovych – even more", – said Lutsenko.
At the same time, he didn't want to call the political forces or people who, in his opinion, the "roof" Novinsky.
However, according to the newspaper, received from interlocutors in the factions of the coalition, a decision that the Committee adopted an opinion on the performance Lutsenko was taken by the leaders of the two political forces: the PPO and "popular front". At the same time on Wednesday, November 16, during a break in the work of the regulatory Committee the head of Committee Pavel Pynzenyk and Secretary Dmitry Lubinets multiple times with different papers came in and went out of the room where the Committee was waiting for the attorney General Lutsenko.
See also: the Procedural Committee of the Verkhovna Rada postponed the lifting of parliamentary immunity with Novinsky
We will remind, in comments to reporters Prosecutor General Yury Lutsenko declared that people's deputies are looking for reasons not to take a decision on removal of inviolability from the Deputy Vadim Novinsky. "The deputies are afraid to say Yes and afraid to say no and make preparati this problem on me, pushing me – or break of the CPC (criminal procedure code), or you will not receive a response," he said.
Vadim Novinsky is on the case of illegal detention of the assistant to the now deceased Metropolitan of the UOC-MP Vladimir Alexander drabinko. According to investigators, Novinsky was a co-organizer of abductions for the change of leadership of the Ukrainian Orthodox Church of the Moscow Patriarchate 2013.
The Parliament deferred the issue of removal of inviolability from Novinsky
TSN. Wounds
Yesterday, 08:29
Add to favourites
The procedural Committee of the Verkhovna Rada, which had to decide whether to put to vote the question on removal of Deputy immunity from Vadim Novinsky, postponed the hearing until the Prosecutor General's office will not give additional information. Novinsky is on the case of illegal deprivation of liberty of an assistant, the now late Metropolitan Vladimir – Alexander drabinko.
Comments
comments