Four MPs should be punished for incomplete e-Declaration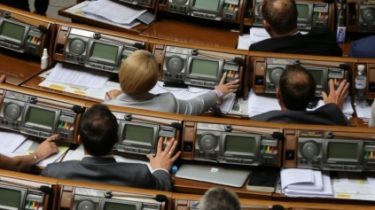 Four MPs should be punished for incomplete e-Declaration
© UNIAN
For violation of policies face administrative responsibility.
The Prosecutor has established the facts of violations in electronic returns four MPs. About it reports a press-Department service.
In particular, there were unreported and untimely reporting of substantial changes in the property status of parliamentarians.
See also: Updated Declaration. Melnychuk left trillion hryvnia, on disappeared a gift from St. Nicholas
"The four MPs of Ukraine, which after September 1, 2016 purchased a vehicle or received income from the alienation of immovable or movable property within ten days did not notify the National Agency for prevention of corruption by presenting the electronic communication to the Registry", – stated in the message of the Prosecutor General.
So, one of the deputies reported NACP on purchasing Harley-Davidson, in 2012, over 141 thousand UAH, and the second is a Toyota Land Cruiser, 2012 model year for half a million hryvnias.
"Another people's Deputy of Ukraine has not filed an e-mail with the receipt of income in amount of UAH 100 thousand from the disposal of the Lexus LX 570, 2010", – stated in the message.
See also: What weighs more: cash Kernes or five hundred iPhone7? Difficult test for e-declarations
The names of these MPs are not voiced. The GPU noted that the violation of the requirements regarding Declaration of income or property acquisition for an amount that exceeds 50 minimum wages (68.8 thousand hryvnia) is an offence related to corruption and entail administrative liability.
The GPU is referred in the NACP with the aim of adopting measures to bring them to justice.
Earlier in NACP said deputies have not filed e-Declaration, and also told the MPs that the late filed annual return. In turn, the NAB said that in Ukraine, the first check of e-declarations of MPs, judges and prosecutors. November 11, NACP approved the procedure on monitoring and complete verification of electronic declarations of Ukrainian officials.
Comments
comments