Obama and Merkel insist on maintaining sanctions against Russia until full implementation of the Minsk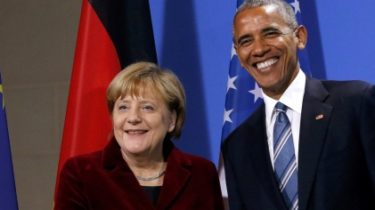 Obama and Merkel insist on maintaining sanctions against Russia until full implementation of the Minsk
© Reuters
The US President assured the support of the Ukrainian people.
The Federal Chancellor of Germany Angela Merkel and President Barack Obama discussed the importance of maintaining sanctions against Russia until the Kremlin does not fulfill the Minsk agreement.
This was stated by Obama and Merkel joint press conference in Berlin, reports UNIAN.
"We continue to help the Ukrainian people and defend the main principle that countries have the right to determine their own destiny. And we discussed the importance of maintaining the sanctions as long as Russia complied with Minsk agreements," – said the American President.
See also: Obama urged trump to fight with Russia if necessary
Obama said that during the talks with Merkel have discussed policy commitments to address our common challenges in the field of security – from combating cyber threats to ensure that Iran continued to abide by the terms of the Iranian nuclear deal.
"I witnessed a respected Angela for her leadership, together with President Hollande in efforts to resolve the conflict in Ukraine", – said the American leader.
Farewell tour: Barack Obama gave a recent interview in Berlin
TSN. 19:30
Yesterday, 20:25
Add to favourites
Last, the sixth visit of President Barack Obama to Germany lasts an unusually long time. He arrived last night. Then informally, without cameras had a dinner with Angela Merkel. Tonight, Obama and Merkel will have dinner together. However, it will be a formal gala dinner, joined by many celebrities.
We will remind, the President of the United States Barack Obama makes farewell tour of Europe. The purpose of the visit was to say goodbye, and perhaps to reassure the frightened Germans. Win Donald trump provoked in Berlin a real shock. Obama has held a long meeting with his successor and is now trying to explain that one person will not break the foundations of American democracy.
Obama during an unusually long visit to Germany, had dinner with Merkel alone
Policy
Yesterday, 17:44
1 of 19

© Reuters

1 of 19

© Reuters

1 of 19

© Reuters

1 of 19

© Reuters

1 of 19

© Reuters

1 of 19

© Reuters

1 of 19

© Reuters

1 of 19

© Reuters

1 of 19

© Reuters

1 of 19

© Reuters

1 of 19

© Reuters

1 of 19

© Reuters

1 of 19

© Reuters

1 of 19

© Reuters

1 of 19

© Reuters

1 of 19

© Reuters

1 of 19

© Reuters

1 of 19

© Reuters

1 of 19

© Reuters
© Reuters

© Reuters

© Reuters

© Reuters

© Reuters

© Reuters

© Reuters

© Reuters

© Reuters

© Reuters

© Reuters

© Reuters

© Reuters

© Reuters

© Reuters

© Reuters

© Reuters

© Reuters

© Reuters
Comments
comments