On Khreshchatyk want to equip nine land crossings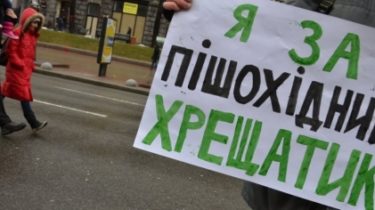 On Khreshchatyk want to equip nine land crossings
© UNIAN
This initiative is considered in KCSA.
The authorities of Kiev plan to build on Khreshchatyk nine land crossings.
This was announced on his page on Facebook Director of the Department of transport infrastructure of Kyiv city state administration Sergey Meisel.
"In the area from Bessarabia square to Park Avenue is planned to arrange nine ground pedestrian crossings, seven of which are adjustable and two are unregulated. Also on the street will be organized dedicated lanes for public transport and special Islands of security," he said.
Maisel said that in the framework of the investment project in three weeks to begin reconstruction of pedestrian underpasses in the city centre.
"Reconstruction will last for three months, during which the transitions will become more comfortable for all segments of the population, including people with limited mobility. For the period of reconstruction will create two ground pedestrian crossings with refuges across the street Khreshchatyk street, which will be regulated by traffic lights", he said.
According to him, near the traffic light cameras will be installed, through which within three months will be to monitor traffic intensity and traffic safety in the capital.
Maisel added that before implementation of the project of creation of ground pedestrian crossings on the Khreshchatyk will be held public, obsujdenie only if public acceptance the project will be implemented.
See also: "the March of the unconquered" emotionally shocked festive Khreshchatyk
We will remind, on the Khreshchatyk the revolutionary GPS beacons arranged the first transition for people with visual impairments. Now the system is running in test mode. Beacons equipped with one of the most complicated transitions for the blind – Independence.
Comments
comments