Rabinovich said that he has a film with evidence of the crimes of the NBU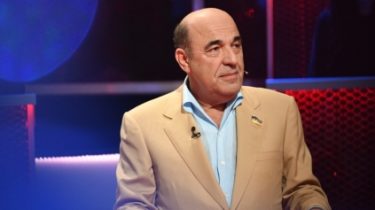 Rabinovich said that he has a film with evidence of the crimes of the NBU
© Dnia
The MP promised to transfer the film to the police.
MP and one of the organizers of protests at the National Bank of Ukraine, Vadim Rabinovich, said he had received 95 hours of recordings of telephone conversations of the head of the NBU Valeria Gontareva and her assistants.
"From these conversations it is evident that the Chairman of the national Bank and his aides stole billions from the country, just talked on the phone and shared the hryvnia, dropped it and raised it for themselves," he said on a talk show, "the Right to Vlad".
According to Rabinowitz, these records he "gave the patriots of Ukraine, we will not be called, because we know what their tomorrow will be."
The politician said that on Friday, November 18, these records will be transferred to the National anticorruption Bureau of Ukraine and the Prosecutor General.
See also: metal Detectors and several hundred police officers. Under NBU again gathered protesters
We will remind, on November 15 under the buildings of the NBU and the government have held protests. At a rally in the city center were mainly pensioners and young people. On the question of the purpose of the campaign reacted aggressively, and some never knew why they came. Mostly people said, they want to return the money, but did not call the Bank, which allegedly had the Deposit. Also part said that demanding the resignation of the head of the NBU Valeria Gontareva.
Rabinovich promised to pass the police film evidence of the crimes of the NBU
Policy
Yesterday, 23:42
Add to favourites
The MP from the opposition bloc Vadim Rabinovich says he has tape recordings of conversations of the Deputy Chairman of the national Bank, which contain the facts of financial crimes. These records are the people's Deputy promised to send the police after taking a copy.
Comments
comments