The Seimas of Lithuania adopted a resolution calling to extend sanctions against Russia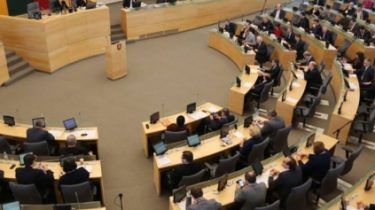 The Seimas of Lithuania adopted a resolution calling to extend sanctions against Russia
Voted 105 deputies, against there was nobody.
The Lithuanian Seimas adopted a resolution concerning the aggression of Russia in Ukraine, which urged the EU to extend sanctions against Russia.
It is reported ru.delfi.lt.
Read also: Sanctions against Russia are not an end in itself – Poroshenko
It is noted that the resolution voted 105 deputies, against was no one, one abstained.
"Saeima calls on EU member States to extend sanctions against Russia until full implementation of the Minsk agreements", – the document says.
As noted by the Lithuanian Parliament that "any attempt to soften or lift sanctions against the Russian Federation would encourage the aggressive policy of Russia and would increase the threat to security of Ukraine, Lithuania and all Europe."
Read also: Sanctions for a full recovery of the integrity of Ukraine: Poroshenko and Biden discussed the pressure on Russia
Recall, the Ministry of defence of Lithuania has developed a new version of the booklet on civil defense recommendations in the event of a Russian invasion. In the publication, the authors warn that Russia will not hesitate to use force against their neighbors.
The first edition is a few tens of thousands of copies. It describes various types of Russian tanks, ammunition and mines.
See also: foreign Affairs Canada encourages all countries to maintain sanctions against Russia
"The most important thing is that citizens was prepared and had the will to resist. When these elements are present, the aggressor is difficult to create an environment for military invasion", – stated in the brochure.
The brochure is distributed through youth organizations, in public and online.
Comments
comments