"Early days": Gerashchenko responded to the court's decision on Yanukovych Jr.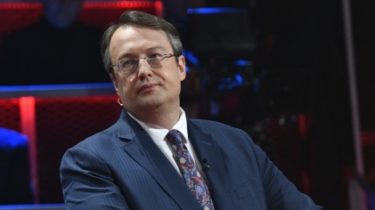 "Early days": Gerashchenko responded to the court's decision on Yanukovych Jr.
© Dnia
The court found the son of the former President to be innocent of the murders on the Maidan.
The people's Deputy Anton Gerashchenko declares that the son ex-the President Victor Yanukovych Alexander and his lawyers early to rejoice in the decision of Pechersk district court of Kyiv, which recognized the Deputy's statement about the involvement of Yanukovych, Jr., to the shooting on the Maidan unreliable.
"Naturally, this decision will be appealed and Alexander Yanukovych will not get the desired result," – wrote Deputy on his page on Facebook.
See also: Lutsenko told about an organized criminal group of Yanukovych, which is still in effect in the Parliament
Gerashchenko said that the eldest son of ex-President charged with suspicion of committing a number of economic crimes, he also held on charges of forming a criminal organization, the head of which stood his father Viktor Yanukovych.
Nardep is sure that in the end, and the former President of Ukraine, and his son will be sentenced in absentia, "and eventually, through the years, when Putin's regime will fall, you will suffer their punishment even when his life".
Read also: General Prosecutor's office suspended the investigation against Yanukovych and his henchmen – the Deputy
We will remind, the Pechersky district court of Kiev declared invalid, degrading the honor, dignity and business reputation information about the alleged involvement of the son of the former President of Ukraine Viktor Yanukovych Alexander the killings on the Maidan, circulated 18 November 2014, people's Deputy of Ukraine, Advisor to the Minister of internal Affairs Anton Gerashchenko.
For the case of Yanukovych, the Prosecutor General's office established a new unit
TSN. Pdsmi day
24 Oct, 23:50
Add to favourites
It should bring to the court the case against the President of the fugitive and his henchmen. New management has allocated from the Department of special investigations, headed by Sergey Gorbatyuk. The attorney General criticized him for the delay and he was reprimanded.
Comments
comments