Lutsenko told about an organized criminal group of Yanukovych, which is still in effect in the Parliament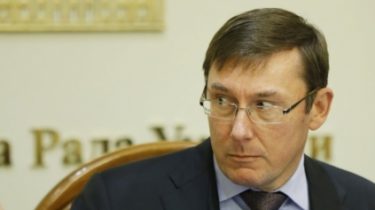 Lutsenko told about an organized criminal group of Yanukovych, which is still in effect in the Parliament
© UNIAN
Lawyer scandalous Novinsky was made by the relevant Committee of Parliament, said the attorney General.
In the Verkhovna Rada an organized crime group created by former President Viktor Yanukovych.
This was during a joint briefing with the head of the SBU said the Prosecutor General of Ukraine Yuriy Lutsenko.
According to him, the people's Deputy Vadim Novinsky was part of a criminal group, which was to remove the head of the UOC and to put a loyal successor to Yanukovych.
"A criminal case in which it is established that Yanukovych has created a criminal group from among Zakharchenko (ex-the interior Minister – Ed.) Koryak (former head of Ministry of internal Affairs of Kyiv – Ed.) and their management MP Novinsky, for kidnapping. In order to force the head of the UOC to retire, instead of placing themselves as loyal to Yanukovych of the person," explained Lutsenko.
See also: Lutsenko said about "protection" Novinsky from politicians
According to him, during the consideration of the submission of the GPU on the deprivation of immunity Novinsky profile Committee of the Parliament acted as the lawyer of the controversial MP. Also his lawyer was the former head of investigation of the Ministry of interior.
"That is the man who actually achieved the so-called protection of the Bishop society, which moved into his convoy, to his captors, he was now a lawyer of Mr. Novinsky" – said the Prosecutor General.
Lutsenko added that the criminal group of Yanukovych continues to operate in the Parliament
"OPG is OPG, and even in the walls of Parliament, she continues to act," he said.
The head of the GPU said that after technical change in procedural terms concerning in absentia convictions, the Prosecutor's office will be ready to transfer in court business of Yanukovych and his entourage.
Recall that on 3 November it became known that the Prosecutor General's office of Ukraine will contribute to the Verkhovna Rada a view to the prosecution of people's Deputy Vadim Novinsky. The corresponding document was published, the Prosecutor General of Ukraine Yuriy Lutsenko. MP from "Opposition bloc" Vadim Novinsky became acquainted with the social network laid out in a document of the GPU and declared in the Parliament that stated the Prosecutor General Yuri Lutsenko view on attraction of the Deputy to responsibility a lot of mistakes.
Before Lutsenko declared that the politician is suspected of attempt of removal of the Metropolitan of the UOC-MP Vladimir.
Comments
comments