Tusk called Poroshenko before the fateful bezveza EU summit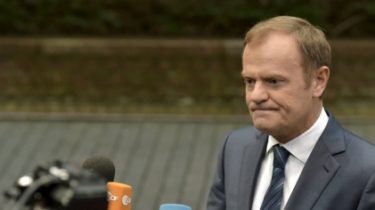 Tusk called Poroshenko before the fateful bezveza EU summit
© Reuters
The President of Ukraine thanked the EU for supporting the UN resolution.
Member countries of the European Union will soon agree on the mechanism for suspension of visa-free regimesthat will pave the way for the final abolition of visas for Ukrainians.
Such an expectation during a telephone conversation with Petro Poroshenko, the President of the European Council Donald Tusk.
Also, the leaders welcomed the decision of the EU Council at the ambassadorial level relative to the beginning of inter-institutional negotiations on the introduction of visa-free regime for Ukrainian citizens. "This decision is a significant political achievement in the process of visa liberalization" – said Tusk.
See also: Bezviz for Ukraine is an internal problem of the European Union
This Poroshenko coordinated with European colleagues "approaches of the early completion of the process of ratification by the Netherlands of the Association Agreement between Ukraine and the EU."
"The Ukrainian head of state thanked the President of the European Council for solidarity from the member States of the EU resolution of the UN General Assembly on human rights in the Autonomous Republic of Crimea and city of Sevastopol", – is spoken in the message of press-service of the head of state.
Visa-free regime between Ukraine and EU is possible in March
TSN. Wounds
Yesterday, 12:12
Add to favourites
Visa-free regime for Ukraine has entered the homestretch. It was approved by the Board of permanent representatives of EU countries. Diplomats are allowed to start further negotiations, but with clarification, they should start after the introduction of the EU suspension of the Visa-free mechanism. According to TSN, it should be calculated not earlier than mid-December.
Comments
comments