"Naftogaz" has a chance to force Gazprom to pay for gas transit at $ 4 billion. more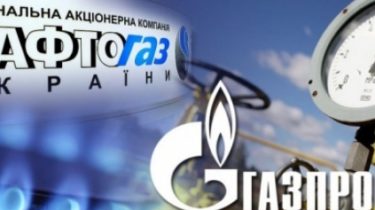 "Naftogaz" has a chance to force Gazprom to pay for gas transit at $ 4 billion. more
© Hvilya
Also "Gazprom" will have much cheaper to sell gas to Ukraine – if you lose, "Naftogaz" in the Stockholm arbitration.
Russian "Gazprom" will have to pay for gas transit through the territory of Ukraine is 4 billion dollars a year more if the Stockholm arbitration court decides in favor of the NJSC "Naftogaz of Ukraine".
About this on his page in Facebook wrote to the commercial Director of "Naftogaz of Ukraine" Yuriy Vitrenko.
"Gazprom" (in the case of loss – ed.) will have to pay us tens of billions of dollars of compensation to sell gas at a much lower price, annually to pay $ 4 billion more for transit and not to obstruct our integration in the European market," wrote Vitrenko.
He also said that hearings regarding the transit contract starts on Monday.
In addition, Vitrenko led the basic requirements of "Naftogaz" to "Gazprom".
"As provided for in the contract with Gazprom, the transit tariff needs to be aligned with the European regulations establishing the rates," he said.
The commercial Director stated that the contract must be given in accordance with applicable (mandatory) legislation.
"Since the provision of gas transportation services is carried out on the territory of Ukraine, it is obvious that Ukrainian law should apply. And no contracts between two commercial entities, such as "Gazprom" and "Naftogaz" can't have "immunity" from the application of legislative regulations, because the laws have Supreme legal force over the contracts," he explained.
Vitrenko also reminded that the decision of the arbitration on the contract for the purchase of gas is expected before April, and the contract for the transit of gas through June 2017.
Earlier it was reported that "Naftogaz of Ukraine" in the framework of consideration at the Arbitration Institute of Stockholm chamber of Commerce stated requirements on compensation of the company "Gazprom" in total over 26,6 billion dollars. On October 17 it became known that the Arbitration Institute of the Stockholm chamber of Commerce has completed an oral hearing in the joint case by mutual claims of "Naftogaz of Ukraine" and Russian "Gazprom" for gas supply contract to Ukraine.
"Gazprom" and "Naftogaz of Ukraine" the legal proceedings in the Stockholm arbitration court in June 2014.
Comments
comments