In Kiev sold "Iron throne" from the ATO for 150 thousand hryvnias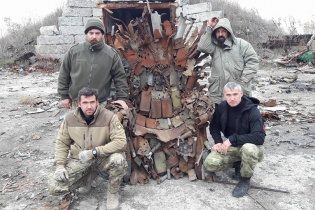 In Kiev sold "Iron throne" from the ATO for 150 thousand hryvnias
© Ministry of defence of Ukraine
Just received 30 proposals from buyers from different countries.
In Kiev sold "Iron throne", created from the weapon and broken shells, over 150 thousand hryvnia. About it reports Radio Freedom.
The name of the buyer is unknown. It is noted only that they became the Zaporozhye businessman. Also it is unknown where it will be a throne.
"150 thousand, but it will not be money. This amount gave people from Zaporozhye. The equivalent can help more: we can, in addition to the two imagers, to buy a car," said one of the coordinators of the auction Taras Protein.
See also: Dress Marilyn Monroe in which she sang for President Kennedy sold at auction
Just received 30 proposals from potential buyers from Ukraine, Poland and the Czech Republic.
Note, collected from the auction money will go to help soldiers ATO.
Recall the "Iron throne" was put up for auction on November 14. The auction lasted a week. In auction can take part, anyone from anywhere in the world. He constructed the throne on October 22, 4.5 km from Donetsk.
Comments
comments