Ukrainian journalist Sushchenko can extend the arrest in Russia – lawyer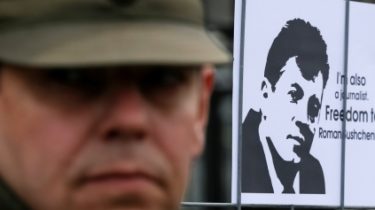 Ukrainian journalist Sushchenko can extend the arrest in Russia – lawyer
© Reuters
According to Feigin, his client is going to prolong the arrest until the spring.
The investigation of the Russian Federation on the case of illegally detained in Moscow, Ukrainian journalist Roman Sushchenko on Tuesday will be served in the court documents for the extension of his arrest.
This was stated by the Ukrainian lawyer mark Feigin, writes "UKRINFORM".
"The investigator Krekov said that tomorrow morning (22 November – approx.ed.) documents will be filed in the court on extension of arrest of Roman Sushchenko. I can assume that they will be asked to extend the arrest for four months," he said.
According to Feigin, now I do not know the date of the court hearing for this reason.
"If the meeting will take place this week, I'll be on it. If in the following, when I planned an important trip in the case Sushchenko (up to 28 November – Kyiv 29 November – Paris – approx. ed.), I will help my fellow runners lawyer or attorney is exemplary," added the lawyer.
We will note, earlier Feigin said, who can convert his client Roman Sushchenko.
Recall, 3 October, information appeared about the arrest of Roman Sushchenko Lefortovo court for 2 months. Russian security forces claim that Sushchenko "purposefully collected data, which constitute state secret, the activities of the Armed forces and National guard, the leak of which abroad could harm the defense of the state". Against the Ukrainian opened a criminal case on charges of espionage, are investigating. Roman Sushchenko in jail "Lefortovo" has found members of the Public oversight Commission (POC) of Moscow. 47-year-old journalist was in the chamber of the quarantine Department.
The journalist told members of the STC that he was put under psychological pressure, and the investigator was not allowed to call and tell his wife about the arrest. The FSB has provided him with a state attorney. The former lawyer was released from Russian captivity of the people's Deputy of Hope Savchenko mark Feigin decided to help Sushchenko and become his protector.
Previously it was reported that the journalist Roman Sushchenko can exchange for a detainee recently in Exactly the agent of the main intelligence Directorate of the General staff of the armed forces of the Russian Federation.
Comments
comments