Lutsenko flew to the Hague to arrange the trial for crimes against Maidan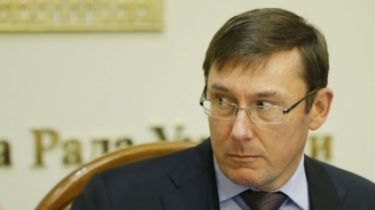 Lutsenko flew to the Hague to arrange the trial for crimes against Maidan
© UNIAN
The head of the GPU will meet with the Prosecutor of the International criminal court.
The Prosecutor General of Ukraine Yuriy Lutsenko flew to the Hague for talks with representatives of the International criminal court.
This was reported by press Secretary of the Prosecutor General Larisa Sargan.
Lutsenko will meet with the ICC Prosecutor. He intends to discuss the possibility of considering this institution crimes committed against participants of the revolution of Dignity.
See also: Big win over law of the Russian Federation. What does the report of the Hague on occupied Crimea
We will remind that the Prosecutor General's office of Ukraine is ready before the end of the year to bring to trial a case of high treason Viktor Yanukovych and his desertion to the enemy. The attorney General called the four priority processes which will begin soon in courts. Important – it is the usurpation of power by the ex-President, bring to the impoverishment of the APU and the flight to Russia. Another priority is economic crimes Azarov, Klyuev, Klimenko, Arbuzov and smartly. The Prosecutor's office in a hurry, because banks keep their archives only five years. Information for 2011 not all provide. A separate case highlighted the privatization of "Ukrtelecom" through offshore. And the fourth episode of the pressure on the religious denomination.
The Hague Tribunal has described the situation in the Crimea international armed conflict
TSN. Wounds
November 15, 12:46
Add to favourites
This is referred to in the report of the Prosecutor Fatou Bensouda in the Hague has prepared in response to the appeal of Ukraine. According to the judge, vooruzhennye the conflict the situation has become, when Russia mobilized the personnel of his army to gain control over the Ukrainian territory. In addition, the report mentions the violation of the rights of the Crimean Tatars.
Comments
comments