Week "swing" in exchange. Why the dollar jumped and what will be its course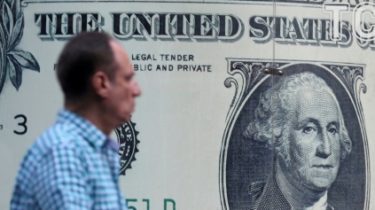 Week "swing" in exchange. Why the dollar jumped and what will be its course
© Reuters
In exchange dollar first rose and then fell to one hryvnia.
This week was skoczylas mad jumps of exchange rates in the Ukrainian exchange.
On Sunday, November 13, TSN.Week fixed rate at the level of 26.80 USD per dollar. And almost all week the dollar was climbing up to a record high of 27.70 UAH. And here suddenly on Friday collapsed the hryvnia. Today, 20 November, in Kiev it is possible to buy in exchange for 27 UAH.
What was it? "The black market" gave a very good money in panic from the victory of Donald trump in the presidential election in the United States, say experts.
Euro behaved more predictable. And at the end of the week even has fallen – today it sells for 28,70 UAH.
"Approaching the end of the month is the traditional time mandatory tax payments, which increases the supply of dollars. The hryvnia on the interbank market will be in the range of 25-26. And in exchange rate will be in the range 26-27, will gradually come nearer to a mark 26 hryvnias per dollar," predicts chief financial analyst of RA "Expert-Rating" Vitaly Shapran.
That is, the dollar will slowly move backwards.
"Next week the currency corridor will be in the range of 26.5-27.3 per. This Friday is a day off again in the States. So Monday begins with increased demand for the dollar. And another news – world-the trend is that the dollar strengthens and other currencies depreciated against the USD in the national currency", – says Elena Korobkova with the Independent banking Association. Its latest forecast, by the way, was rather.
What are the official exchange rates Monday, 21 November, read on Dnia this link.
Why in Ukraine grew vegetables
TSN. Week
Yesterday, 20:55
Add to favourites
Rose by almost a third. Why are the prices jumped again because of the vegetables, as assured us by the experts enough, because the harvest was good. The reason is in the terrible have passed-a week's bad weather. Supermarkets have reduced the supply of vegetables, because I just couldn't drop off. And prices due to the shortage climbed up. You can also predict that the vegetables will rise again in the New year.
Comments
comments