In the Netherlands invented the flying hammock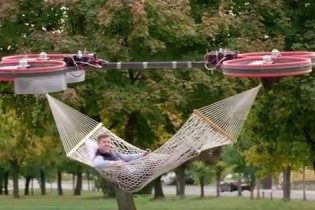 In the Netherlands invented the flying hammock
© YouTube
So relax offers the insurance company.
In the Netherlands invented the flying hammock, which can move in the air with the man.
Writes about this "Tape.ru".
The movement of his lead two drones.
Video of the hammock with the man posted on his YouTube channel of the Dutch insurance company Centraal Beheer.
That's exactly what she offers to her clients.
See also: In the Internet appeared the video, where two clumsy bears funny balancing on the hammock
We will remind that earlier the Chinese couple chose an unusual venue for wedding vows. They held the ceremony at a height of 200 meters under a glass bridge in a national Park in the South-East of the country.
To the bridge put a special hammock for brides. Parents and guests watched the ceremony from above. It turned out that young is afraid of heights, but for the sake of the beloved overcame my fear, went down on the rope to the hammock and a couple gets married.
Comments
comments