In Kiev begin to dismantle the illegal add-ons on the House of trade unions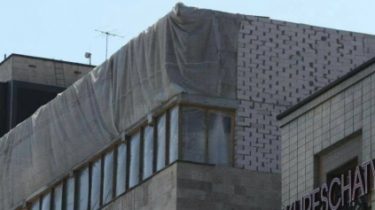 In Kiev begin to dismantle the illegal add-ons on the House of trade unions
© Facebook/Dmitry Belotserkovets
Demolition work will start on 23 November.
November 23, from 9 am start to dismantle two illegal floors of the superstructure at the trade unions Building in Kiev. This was announced by the mayor of Kiev Dmitry Belotserkovets in your Facebook.
Capital city Council and the administration won all courts of the Builder and began preparations for dismantling in the summer. Now, the official said, "all the preparations are completed, the Executive office informed". The dismantling process may take several months.
We will remind, on July 14 near the cafe "the Punisher" began the carnage due to the closure of the institution and the dismantling of the House of trade unions. From the "activists" used rebar, stones and tear gas. Cafe running from April 1 in place of the controversial l'kafa.
Comments
comments