In Kiev unknown threw Molotov cocktails at the office of TV channel "inter"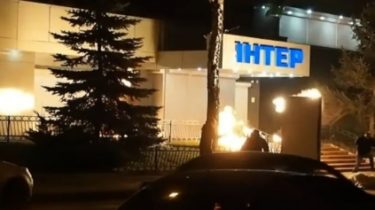 In Kiev unknown threw Molotov cocktails at the office of TV channel "inter"
© YouTube
Police are hunting intruders who attempted arson, "shines" till 10 years of imprisonment.
At night in Kiev unknown tried to set fire to the building of the TV channel "inter", throwing his Molotov cocktails.
About it reported in Department of communication of the police of Kiev.
"Around midnight the duty of the Shevchenko up there have been some reports that on the territory adjacent to the administrative building of TV channel on vul. Demetrius unidentified persons threw Molotov cocktails," – said in the message.
According to the guard of the building, he heard a sound like an explosion, saw on the screens of surveillance cameras, as a few men running in the direction of the channel, and the flame. Then the man and his colleagues ran out into the street with their fire extinguishers and put out the fire and called the police. Fortunately, no one was hurt.
The militiamen who arrived at the scene of the incident, found and sent for examination the remains of the glass bottles and another prosperou a bottle of stuff that was clogged with a rag. The police establishes persons involved in the event. Now on the fact of arson criminal proceedings, the sanction of article provides till 10 years of imprisonment.
Recall, September 4, a fire damaged the premises of "inter" on the street Shchusev. From there it was carried on the news broadcast. Before the fire, several people were set on fire under the office of the TV channel of the bus and chanted "inter – agent of Moscow". Arsen Avakov said that among the picketers at the walls of the office of the TV channel "inter" are former soldiers, 30 brigade APU. According to him, around 16:00 the protesters came to the walls of "inter" to protest against the Pro-Russian position of the channel. As a result of collision with the protection channel in the room flared open fire.
Later seized by investigators, the servers should register the events inside the TV channel "inter" during the attack on 4 September, was carefully filled with water.
Comments
comments