In Kiev right from the train were hospitalized two dozen children with poisoning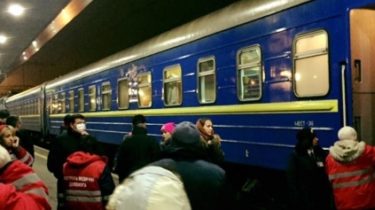 In Kiev right from the train were hospitalized two dozen children with poisoning
© Facebook/Alexander Gorgan
Three children were taken to the hospital in serious condition.
In Kiev, a Metropolitan train station with heavy poisoning straight from the train physicians hospitalized 18 children.
About this on his page in Facebook wrote the head of the Kyiv regional state administration Alexander Gorgan.
"The mass poisoning. Employees of the emergency medical service of Kyiv region meet at the railway station "Kiev Passenger" 18 sick children (three of them in serious condition). Are 12 teams of emergency medical aid", – he said.
According to Gorgan, the children are participants in Brovary dance group "Galatea" was coming from the city of Kamenetz-Podolsk, where he took part in the competition.
Later, the head of the KOGA told TSNthat the Kiev physicians hospitalized in a heavyweight condition of three children – 17, 8 and 7 years, and 10 children and one adult were taken to Brovarsky hospital, where they now lie under the dripper.
In Kamenetz-Podolsk massively poisoned children
TSN. Wounds
Today, 12:33
Add to favourites
18 children with severe poisoning just from the train, arrived from Kamenetz-Podolsk, was hospitalized, doctors at the capital's station. Three children in serious condition, they are now saving the Kiev doctors. Ten – under droppers in Brovary hospital. All children – from Brovary dance group "Queen".
In addition, one child because of his state of health are unable to bring in Kiev, so he stayed in Kamianets-Podilskyi.
"3 children, whose condition is satisfactory, the parents took home. Another 15 children who participated in the contest, but not ill, are quarantined", – he added, noting that some of the children were still sick from Kamenetz-Podolsk.
According to preliminary data, the symptoms of poisoning began to occur on Sunday, following the reception the day before in hotel "Xenia" where they lived.
"On Sunday, during a tour of a few adults were observed symptoms of poisoning. Two adults hospitalized in Kamianets-Podilskyi and received it. They got treatment and went to Kiev. During the trip they were accompanied by a paramedic and a nurse. In the train most of the children began to experience symptoms of poisoning. They even the temperature rose to 40 degrees. Three children were regularly lost consciousness," – said Veronica, adding that the train stopped twice.
"In particular in Kozyatyn, came the physicians who assisted, but hospitalization during the tour, children and parents refused. The girl of 8 years, mother was not allowed to help, to work hard or profilowane febrifuge, and gave her packs of lemons. In the end the girl was hospitalized in Kiev", – said the head of the KOGA.
Now all children are under the supervision of doctors, but an accurate diagnosis is still there. Research continues to find out what could cause poisoning. In this regard, said the Agency, accusing the hotel of poisoning the children too early.
We will remind, earlier in Krivoi Rog from-for poisonings with narcotic substances children fell into a coma. In the blood of children found morphine, marijuana and benzodiazepines.
Comments
comments