Seven MPs broke the law and continued to earn "on the side" is GPU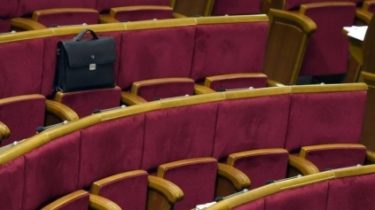 Seven MPs broke the law and continued to earn "on the side" is GPU
© UNIAN
The materials of the Prosecutor General will be directed to anpc.
GPU after researching statements, which are indicated in e-declarations and information, which is available in the Unified state register of legal entities, individuals-entrepreneurs and community groups, found that 7 people's deputies of Ukraine violated the restrictions stipulated in article 25 of the Law of Ukraine "On prevention of corruption", on combining and combining with other activities.
It is reported by the GPU.
Despite the acquisition of parliamentary powers, they continued to engage in other paid activities, enter into the composition of the Board, other Executive or controlling bodies, enterprises, organizations, with the aim of making a profit.
One of these people's deputies of Ukraine, even in e-Declaration reflected the income from the occupation of such activities.
In the GPU stressed that the failure to comply with the restrictions is an offence related to corruption and entail administrative liability under part 1 and 2 of article 172-4 Art.
See also: anti-corruption authorities will compare the lifestyle and income Tymoshenko, and also check the Declaration of the five MPs
Collected materials the Prosecutor General of Ukraine sent to the National Agency for prevention of corruption.
Home of the Louvre Museum: an exclusive tour Pennies for the private collections of deputies
Pennies
Today, 09:39
Add to favourites
It turns out that the Ukrainian elite does not love cash only. In addition to the hundreds of millions, officials have declared a considerable stock of objects of art: paintings by Rubens, Michelangelo, ancient icons, collectible weapons and even Holy relics. The program "Groshi" embarks on a tour of the parliamentary Museum: elected officials showed reporters his most valuable treasures.
Comments
comments