The police called the number of victims and detainees during clashes on Maidan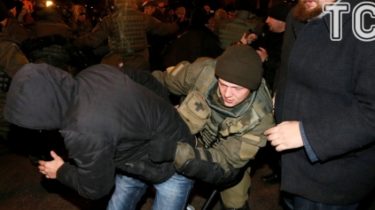 The police called the number of victims and detainees during clashes on Maidan
© Reuters
In Veche on Independence square was attended by about 400 people.
During clashes on the evening of 21 November in the center of Kiev suffered three people.
This reports the press service of the police of Kiev.
One of the protesters received injuries from a fall from the parapet, the second – incised wound of the hand. Another man asked for help to the ambulance, in advance, with the stress response.
The police said that in the chamber at the Independence square was attended by about 400 people. According to the chief of police of Kiev Andrey Krishchenko, as at 21.30 in the center of the city there were about 150 protesters, reports of Public.
According to kryschenko, the police did not detain anyone.
On Independence square there were clashes of activists with militiamen: burning tires
TSN. 19:30
Yesterday, 20:03
Add to favourites
Activists of various organisations tried to carry tyres on Independence square. The police tried to interfere, resulting in a scuffle, intervened the National guard. Despite serious obstacles, the activists still lit tires.
Comments
comments