Reuters showed the law enforcement officers clash with protesters on independence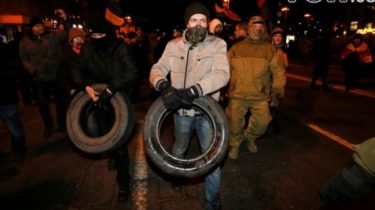 Reuters showed the law enforcement officers clash with protesters on independence
Kiev
Yesterday, 21:29
1 of 10

© Reuters

1 of 10

© Reuters

1 of 10

© Reuters

1 of 10

© Reuters

1 of 10

© Reuters

1 of 10

© Reuters

1 of 10

© Reuters

1 of 10

© Reuters

1 of 10

© Reuters

1 of 10

© Reuters
© Reuters

© Reuters

© Reuters

© Reuters

© Reuters

© Reuters

© Reuters

© Reuters

© Reuters

© Reuters
The incident occurred at the beginning of the chamber on Independence square.
In the center of Kiev held a minor scuffle between the security forces and representatives of right-wing forces.
Part of the protesters wanted to carry on the Maidan Nezalezhnosti bus through the cordon of police, however law enforcers were against it.
This started clashes with the police.
A few of the tires as symbol failed to light.
See also: Protesters smashed Windows of the savings Bank in the center of Kiev
We will remind that the head of the UNA-UNSO explained that the tires on the Maidan.
"The situation was that the police wanted to block the way for those who bear tires. It seems to me that there are several groups who are trying to curry favor with the government. Bus is a symbol of the revolution. It's not a mess," commented the behaviour of participants in conflict, the member leads the UNA-UNSO Igor Mazur.
The day of Freedom and Dignity in Ukraine celebrate its third anniversary from the start of the revolution
TSN. 19:30
Yesterday, 19:52
The main events take place at the Independence square and the alley of the Heavenly Hundred. Since the morning the whole city centre blocked to traffic. The city stepped up security measures, do not rule out provocations. The street got 6 thousand police officers. To honor the heroes arrived and the President. After his visit to the border and the frame immediately removed. Go to the memorial relatives, friends and concerned people.
Add to favourites
Comments
comments