The protesters on Independence square in Kiev to announce it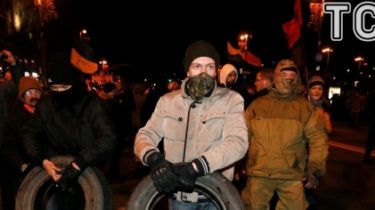 The protesters on Independence square in Kiev to announce it
© Reuters
Protesters have called to withdraw from the Minsk process politicians Leonid Kuchma and Viktor Medvedchuk.
Participants of the pogrom of the office, ostensibly politician Viktor Medvedchuk, vul. Velyka Vasylkivska, returned to Independence square in Central Kiev.
About it reports "Interfax-Ukraine".
About 200 people, mostly men of athletic build with yellow ribbons on the sleeves, arrived at the Independence square and is located near the stele of Independence.
The gathered were addressed by the commander of the volunteer battalion "OUN" Nikolay Kohanivsky. Near the stele resumed the chamber. Participants of the action hold flags with the inscription "White hammer" and "Right sector" and national flags of Ukraine. Kochanowski voiced the demands of the participants in the popular Assembly and urged them to disperse.
He called on the authorities to release those arrested before comrades, to withdraw from the Minsk process, Leonid Kuchma and Viktor Medvedchuk. Otherwise, he threatened that next time the protesters will act more harshly.
"No longer will the Russian banks (the focus of protesters – ed), and directly Bankova," – said Kochanowski. He noted that these requirements must be completed before 1 December.
Read also: Head of the UNA-UNSO explained that the tires on the Maidan
We will remind that activists of nationalist organizations complain that the police were taken from the people of tyrewhich those tried carried on Independence square.
Throughout Ukraine, people gather in the Central squares of their cities to honor the heroes of the Heavenly Hundred
TSN. 19:30
Yesterday, 20:47
Add to favourites
The day of Freedom and Dignity today is celebrated throughout Ukraine. Lvov came to honor the heroes with flowers and prayer. In Sumy activists organized a torchlight procession in honor of heroes of Heavenly Hundred. In Zhitomir area the Queen brought tires and barrels. There are going to a popular Assembly.
Comments
comments