Lutsenko in the Hague discussed the possibility of joint investigation of crimes against Maidan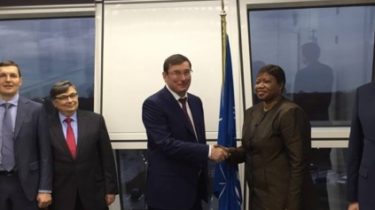 Lutsenko in the Hague discussed the possibility of joint investigation of crimes against Maidan
© Yuriy Lutsenko /Facebook
The Prosecutor of the International criminal court called valuable information provided by the GPU.
In the Hague took place the meeting of the delegation of the Prosecutor General of Ukraine headed by Yuriy Lutsenko and the Prosecutor office of the International criminal court, Bensouda Veil.
About this Lutsenko said on his page in Facebook.
"Our delegation discussed prospects for joint investigations of crimes against participants of peaceful protest on Maidan, war crimes and crimes against humanity in the Donbass and in the Crimea as an unbroken chain of crimes of the state mafia Yanukovych and his Kremlin patrons," wrote the head of the GPU.
According to Lutsenko, Fata Bensouda emphasized the value of the information provided by the GPU, and announced significant progress in this cooperation.
We will remind that the Prosecutor General's office of Ukraine is ready before the end of the year to bring to trial a case of high treason Viktor Yanukovych and his desertion to the enemy. The attorney General called the four priority processes which will begin soon in courts. Important – it is the usurpation of power by the ex-President, bring to the impoverishment of the APU and the flight to Russia. Another priority is economic crimes Azarov, Klyuev, Klimenko, Arbuzov and smartly. The Prosecutor's office in a hurry, because banks keep their archives only five years. Information for 2011 not all provide. A separate case highlighted the privatization of "Ukrtelecom" through offshore. And the fourth episode of the pressure on the religious denomination.
Comments
comments