The SBU published video of detention of deserters near the border of the occupied Crimea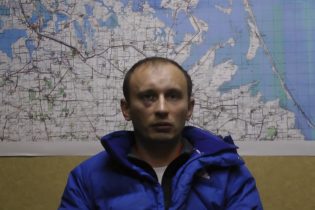 The SBU published video of detention of deserters near the border of the occupied Crimea
© SBU
Former Ukrainian military threatens till 15 years of imprisonment.
The security service of Ukraine during a briefing released video of the arrest of two deserters near Chongar checkpoint on the border with the occupied Crimea.
During the briefing the head of the SBU Vasyl Hrytsak said that the first deserters were three, but one of them returned. They wanted to corrupt a deal to buy documents about the educational institution termination to become officers of the Russian army.
Chongar former Ukrainian military Alexander Baranov Maxim Odintsov was supposed to meet the courier and lured him into occupied territory.
#Hrytsak the arrest of the traitors happened near PPC "Chongar" on the administrative border with the occupied Crimea pic.twitter.com/KgwB3ROJWI
— SB of Ukraine (@ServiceSsu) 22 Nov 2016
Traitors of the Ukrainian army planned to "honest" exchange of documents for money. Cash they have left from the Russian border guards. The mediator planned to lure in the occupied Russian territory, to pick up the documents, and he himself to give the FSB.
Read also: Lavrov sharply commented on the apprehension of deserters at the border with the occupied Crimea
During the arrest of deserters by the Russian border guard ran into the "booth". The process of arrest took video, which published the SBU. Also on the video there is a fragment of interrogation of one of the deserters. He admitted that he served in the Ukrainian army, and in 2014 took the oath of invaders.
In the SBU said that Madame Odintsov and Baranov, like all other war that changed the state, could face up to 15 years in prison.
Recall, 21 November the SBU said about the detention on the border with Crimea two deserters, who, after the annexation of the Ukrainian Peninsula moved to serve in the Russian army.
"They were detained after crossing the border at Chongar", – said in the secret service, noting, concerning these two men of SBU investigates criminal proceedings under article "desertion" and "treason" of the Criminal code of Ukraine.
In the defense Ministry, in turn, claimed that on 20 November, the SBU detained and brought from the Crimea on the territory of the Nikolaev region of the Russian soldiers – warrant officer Maxim Odintsov and younger Sergeant of contract service of Alexander Baranov.
l
Comments
comments