At the Minsk talks on Donbas Ukraine is former Ambassador to the United States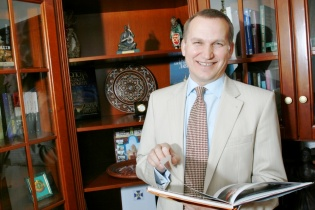 At the Minsk talks on Donbas Ukraine is former Ambassador to the United States
© Eastern European national University named after Lesya Ukrainka
In the capital of Belarus need to negotiate the opening of the checkpoint "gold" and the exchange of hostages.
Two hours ago in the Belarusian Minsk began the meeting of the Tripartite contact group on situation in Donbas. There should decide the issue of the opening of the checkpoint "gold" near the village of Lugansk and the conditions of exchange of prisoners. At the same time from Ukraine to the group of new member – former Ambassador to Poland and the United States Oleksandr Motsyk.
"To work the political sub-group was joined by the extraordinary and Plenipotentiary Ambassador of Ukraine Oleksandr Motsyk," – said "Interfax-Ukraine" press Secretary of the Ukrainian representative in the TAG, the second President of Ukraine Leonid Kuchma Darka olifer.
See also: Klimkin called the two alternative solutions of the Minsk agreements
Oleksandr Motsyk in 2000-2010 was the Ambassador of Ukraine in Poland, and in 2010-2015 – Ambassador to the United States. Also worked as the first Deputy Minister of foreign Affairs of Ukraine on European integration issues.
During the meeting in Minsk should also discuss the feasibility of a police mission in the Donbass, modality of elections, as well as the access of the International Committee of the red cross to the illegally detained persons, said "UKRINFORM".
Earlier, Kuchma said that he wanted to resign from the post of representative of Ukraine in the Contact group.
Comments
comments