The Cabinet approved the list of media, which would deprive the state of exposure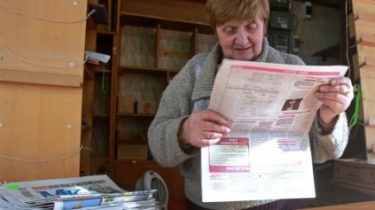 The Cabinet approved the list of media, which would deprive the state of exposure
© UNIAN
In Ukraine razgovarivat more than two hundred publications.
The Cabinet of Ministers approved the list of print media that are subject to privatization.
The decision was taken at a government meeting.
"Today the Government took a step on the way of privatization of printed media. The aim of the reform is to rid the media of state influence and to make them interesting and informative," wrote on his page on Facebook press Secretary of Prime Minister Dmitry Stolyarchuk.
According to the approved list, the desire to participate in the first stage of the reform expressed 244 of the printed edition, which is more than half of public media in Ukraine.
The privatization of the Ukrainian media from tsnua
In turn, the National Union of journalists of Ukraine has already reacted to the decision of the Cabinet, assuring that begin to "plan activities NUJU about next steps support groups Newspapers that civilized parted with the power…".
Recall President of Ukraine Petro Poroshenko signed the law at the second attempt. The first one he vetoed and sent back for revision to the Parliament with a proposal to record in the document that rathausgalerie print media will have the right to change the language of the journal, i.e. will remain predominantly Ukrainian-speaking.
Comments
comments