In Russia have detained a Ukrainian and gave the Donetsk rebels – Gerashchenko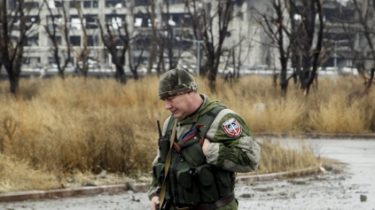 In Russia have detained a Ukrainian and gave the Donetsk rebels – Gerashchenko
© Reuters
The number of hostages in the occupied territories increased.
In Russia illegally detained Ukrainians and gave it to the militants of the occupied districts of Donetsk region. This was announced by first Deputy head of the Verkhovna Rada Iryna Gerashchenko.
According to the MP, of the citizen of Ukraine transferred to occupants through the uncontrolled border areas.
"We, together with the Ombudsman Lutkovska received information that the Russian Federation groundlessly detained the citizen of Ukraine of Nikolaev and handed him over to the ORDO, thereby increasing the number of hostages. Moreover, the citizen of Ukraine was passing through the uncontrolled border areas, and that the illegal movement of people, which is a crime in the context of international humanitarian law", – wrote Gerashchenko on his page on the social network Facebook.
See also: In Minsk the rebels made a compromise proposal to release the hostages – Gerashchenko
The politician also announced the results of the negotiations humanitarian group on the Donbas. Separately, the participants discussed the fate of the teenagers, whose ORDO was accused of "sabotage."
"Ukraine needs to stop the fake cases against minors, the release of these children so they returned to their families," – said Vice-speaker.
On the fact of detention of teenagers by illegal armed groups, the military Prosecutor's office opened a criminal case.
Gerashchenko added that the Ukrainian side made a proposal regarding the release of some seriously ill and elderly people, in particular, of the theologian and historian Igor Kozlovsky, however, the militants refused.
"Unfortunately, received a categorical refusal from representatives ORDO. As yet there is no compromise on our proposals for exemption 57 the other hostages, the content of which confirmed ORDO. They need to release more than 730 people (with each meeting more and more) who have committed crimes against Ukraine, including heavy (this list is killer and those who do not have any relation to the conflict in the Donbass, but involved in terrorist attacks in Odessa and Kharkov)," she added.
As previously reported, the militants of the terrorist organization "LNR" took hostage the judge of Appellate court of Lugansk region Vitaly Rudenko. The judge agreed with their friends from the "LC" that he will be able to come to the city of Krasnodon to bury my father, but he was kidnapped. The Ukrainian side is abduction not advertise it, because I was hoping for a quick exchange of judges.
Comments
comments