The owners of the add-in on the House of trade unions accused the public utilities trespassing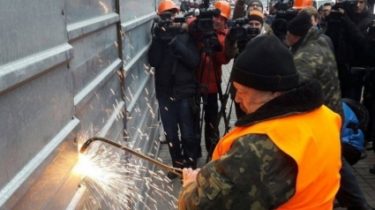 The owners of the add-in on the House of trade unions accused the public utilities trespassing
© Facebook/Dmitry Belotserkovets
Lawyers continue to fight against the demolition of illegal structures.
The dismantling of the illegal add-on to the House of trade unions began today, November 23, in Kiev, said in a release TSN.16:45.
The arrival of the officials in the morning in the yard of the burned trade unions gathered appliances and the utility carefully Packed in foil first batch of dismantled bricks. An hour later the officials showed on the stone and announced that the demolition of two illegal floors began.
In suits and helmets officials invited journalists to the top. However, to see everything firsthand and leadership, and dozens of TV cameras again, someone is banned.
The power for the third time trying to dismantle the illegal add-on to the House of trade unions
TSN. 16:45
Today, 17:45
Add to favourites
Officials promised that today in the capital will start to disassemble two floors, which are invisible to all control bodies has increased two years ago after the revolution of dignity. The decision on demolition of the superstructure took back in March. Several attempts to demolish the add-in was unsuccessful.
But officials are prepared. They say that already have the experience, came not only with promises, but with a saw. After the decisions of the several courts and numerous resistance of unknown persons, the dismantling of illegal add-ons on the historical building of the trade Unions has been finally launched.
The mess now is on 800 square meters on the main street of the capital. For unauthorized construction of criminal responsibility is not provided, only an administrative penalty. Though all that is on Khreshchatyk street, is an architectural monument.
The developer is punished – he is in jail, but for another crime. So all the work while that will be conducted for budget money. In what price it will cost, is not yet decided.
"Unfortunately, it is too early to say because we don't understand all the complexity and all the technical aspects. How much will have to involve people and equipment," – said Deputy mayor Vladimir Prokopiv.
Once dispersed, the mayoral assistants, ran the lawyers of the owners of the building. And accused officials that those trespassing on private property.
Workers who are not aware of the legal conflicts, meanwhile waiting to disperse the journalists, and are reluctant to admit – although the task to analyze everything they put before the New year, time to perform.
By TSN correspondent Anna Bock
Comments
comments