The White house held #MannequinChallenge during the presentation of the highest award for a civilian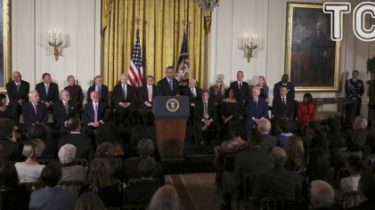 The White house held #MannequinChallenge during the presentation of the highest award for a civilian
© Reuters
The essence of the flashmob is that people freeze for a few seconds while they take video.
During the presentation of the honorary Presidential medal of Freedom to artists, sports figures, scientists and philanthropists, the White house also participated in the popular flashmob #MannequinChallengein which the participants freeze in different poses and relieve themselves on video.
So, in the video of the flash mob were the actors Tom Hanks and Robert de Niro, billionaire bill gates, actress Ellen DeGeneres, basketball player Michael Jordan, singer Diana Ross and other celebrities. Just in flashmob was attended by 21 people.
All of them received the honorary medal of freedom – the highest award in the country, which is awarded for the promotion of U.S. national interests, contribution to American culture and other achievements that inspire millions of Americans.
Also popular in the framework of the flashmob #MannequinChallenge was video dogs samerace. The dog even managed not to move the eyes and tail.
In the Network there are a lot of funny videos in the framework of the flashmob.
Comments
comments