Tymoshenko told how to live on the income from the Declaration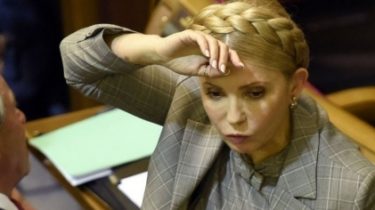 Tymoshenko told how to live on the income from the Declaration
© UNIAN
She stressed that all income in their Declaration.
The head of the faction "Batkivshchyna" Yulia Tymoshenko assured that indicated in the e-declarations information on all of their income.
She announced this at a briefing, transfers UNIAN.
"I joined politics in 1997 and then completely stopped any business. I have 20 years not doing any business," she said, answering a question of journalists, whether it means the food as she dropped a very modest income and assets.
Tymoshenko also recalled that her husband engaged in business, and it said in her Declaration.
In addition, she assured that other income other than declared, has not.
"Because someone thinks that I have billions — search", – she called.
See also: the First criminal. NABU has initiated proceedings against the two MPs and judges because of their e-returns
We will remind, the Deputy of the faction "Samopomich", the head of the Rada Committee on preventing and combating corruption Yegor Sobolev appealed to the anpc with a request to check compliance of the lifestyle of the head of the faction "Batkivshchyna" Yulia Tymoshenko of her income, as well as in the NEB concerning the verification of returns five MPs.
"Today I filed an appeal to the Agency against corruption to conduct monitoring of the lifestyle of the party leader "Batkivshchyna" Yulia Tymoshenko. In her Declaration. I asked Yulia Vladimirovna the initiate this monitoring. Since it didn't, I decided to help her," he said.
In e-Declaration Tymoshenko pointed out a modest salary, jewelry and millions of income of the husband. In particular, the former Prime Minister and the Chairman of "Batkivshchyna" Yulia Tymoshenko in 2015 earned 75 616 UAH – such was her salary in the Verkhovna Rada. 80 559 UAH, she received on the performance of Deputy powers.
Comments
comments